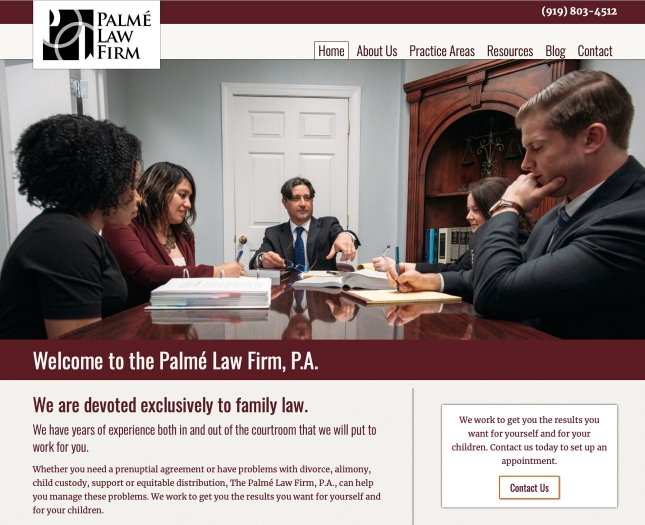 The Palmé Law Firm
Raleigh, NC
Web Development
​Steve Palmé is a fellow member of City Club Raleigh's Leads One business group. He had been struggling with an old WordPress site and decided to give Imp Designs a shot at redesigning his site. Thankfully he was open to our ideas about the site including getting custom photography (sometimes stock photography just doesn't get the job done). The photography was done by Steve's friend, Patrick McCaully, and it turned out wonderfully.
After reviewing the supplied photos, our designer Jer Warren created a look that utilized some of the colors present in the photography. The end results were quite nice and the site is much more inviting than the old site which used a mostly blue corporate template.
Moving to ExpressionEngine was a little challenging for Steve at first. We trained him in use of ExpressionEngine and now that he's had a bit of time with the system, he's found it much more user friendly than his previous site. We coded the site such that he can edit virtually anything on the site, so he also has a bit more control over content than he used to.
The site is utilizing Solspace's Freeform Next form processing software which has a VERY robust form spam prevention function. We also made sure a site visitor was never too far from a contact form—each practice area page has a prominent contact form that reports which practice area the site visitor was on upon submission.
Overall this site was one of the most enjoyable builds we've done in a while… even though the research phase produced some awkward conversation with our spouses! (Um… honey… is there something we need to talk about?)
Visit Site